Technologies

Quality Control & Inspection
Quality Control & Inspection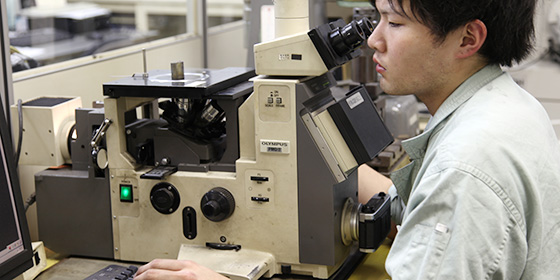 Quality Control of Materials
We conduct the strictest quality control of materials – whether those used in the casting or machining processes – simply to secure the precision and strength required of the product.

We make no compromise in determining the quality of materials – whether iron or aluminum – to be used, which are the principal materials of casting, as well as sand and gravity-type mold materials used to make master molds and cores. Thus, we use only those materials that have passed our rigid criteria.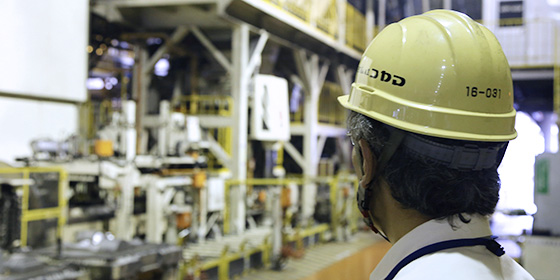 Product Quality Control
A safe factory environment designed with streamlined personnel and goods traffic lines is where we conduct product quality control in accordance with specific process-by-process criteria.

In order for us to be trusted by customers, quality control must be backed by a superb environment and system as well as personnel competent enough to support the manufacture of products. At Koyama, all of us share these requisites of quality control and put them into practice so that each of them functions in perfect balance.
Thoroughgoing Self-Process Guarantee
We can meet rigid quality requirements from leading manufacturers representing the cross-section of Japanese industries.

At Koyama, we set a quality inspection program for each manufacturing process, which is the backbone of our rigid self-process guarantee. Accumulation of these self-process guarantees further enhances the perfection of our product quality. This is why we can ship products that satisfy the strictest quality requirements of our customers who are the top manufacturers in their respective fields.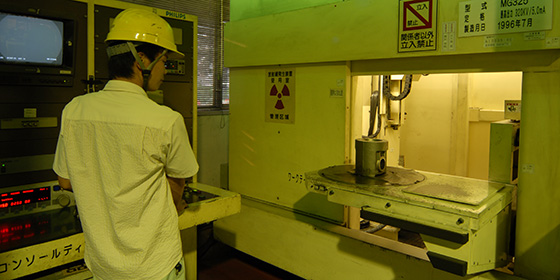 From Materials Control to Product Inspection
Our uncompromising quality control system supports the manufacture of truly reliable products.

The strictest quality control is the watchword in every aspect of our operations, which includes: the confirmation of information regarding materials' distribution channels and use history; inspection using state-of-the art equipment, such as 3D measurement of product dimensions, external forms and shapes; and non-destructive inspections such as endoscopic inspection of internal shapes, X-ray and magnetic particle inspections to check out the material's quality and stability of its structure. Behind our rigid quality control is this complete and scrupulous inspection system. We also have a system that can readily respond to the occurrence of defective products (including the possibility of such cases) by quickly identifying their causes and making improvements.